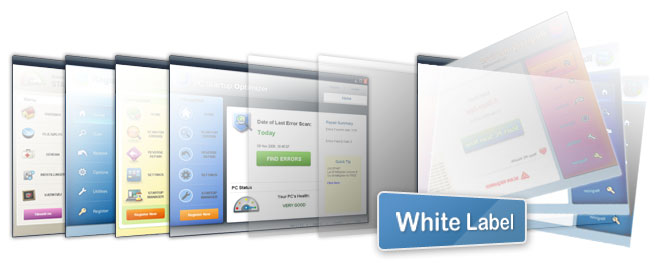 Having your own software company is a growing dream for many aspiring entrepreneurs. Unfortunately this often means you need thousands of hours of experience in software development or a heavy wallet to pay these developers.
We've revolutionized with our White Label Manager and we felt it necessary to tell a bit more about white labelling of software.
How White Labelling normally works
We often get requests from all around the world from individuals and companies wanting to have their own software program to sell.
White labelling can be a complicated process, not only technical but also legal issues. In the past we would usually send informational material their way and communicate for some time via phone and mail in regards to their requests, questions and random things that might turn up.
After exchanging questions, requests for design and finishing legal questions in regards to trademarks and contracts we would begin to create their product for them. This can take weeks even with an almost finished product as small change requests between our customers and our in-house design and software engineers can be a hurdle (this is of course a general issue for most partnerships and development projects).
Now since we launched our White Label Manager this process has almost been eliminated and digitalized to give future software business owners full control and easy management of their product. This process is almost fully automated and intuitive. Miscommunication and delay is eliminated when doing white labelling this way.
Pros and cons of White Label Programs
No matter what industry or product you want to sell there are of course pros and cons connected. This also applies for white labelling. Since this differs from industry to industry our main focus will as the rest of this article is about software.
Pros:                  
Much faster start and setup (it took us almost 2 years to develop some of our products)
No need for hiring software developers (the good ones requires a good wage)
A proven business model (we've earned many millions of dollars over the years)
Low upkeep costs (bandwidth, hosting and  perhaps some support)
High profit margins
Cons:
Another party has control of development
Customizing can be difficult
Technical knowledge may be needed
There can be listed dozens of each probably but the above are essential thoughts one should consider when looking to move into the white labelling market for software. Do you feel comfortable with another company producing and developing your product? Does the company supply enough information about the technology for you to understand it?
One of the things we pride ourselves with here at SPAMfighter is onboarding (teaching and welcoming new users) and we've spent hundreds of hours writing easy-to-understand guides for each product and coding a simple backend for our white label customers. We've come to understand this is a very important part when dealing with complex and highly technical
Who is white labelling software for?
Our experience at SPAMfighter is that people that purchase our white label software licensing already have existing software they sell or already make money by directing people to software solutions via affiliate links.
This usually indicates that people who adopt white label software already have a marketing channel in which they can market and sell a new product. But what if you don't already have existing channels what are you to do?
Marketing your White Label
We've quickly created a small range of marketing suggestions for you to think about utilizing when trying to sell your white label product online:
Organic/SEO
PPC
PPI
Affiliate
Reseller
Content Marketing
Social
Video
E-mail Marketing
Finding your own perfect mixture and channel optimization can be a science but you'll quickly notice your preferred channel in Analytics. A good way to stand out is via your brand identity. We've made it incredibly easy to customize every aspect of your white label program in our Whitel Label Manager.
This might seem like a lot of work but our records show that with the help of a graphic designer you could launch your first software product in less than a week.
But is it really worth all this hassle? Yes it is!
The price (and profit) of a white label license
When buying your licensed product at a fraction of the normal cost there is a wide margin for profit in this industry. Here at SPAMfighter we sell software licenses from $10 all the way down to $2, depending on purchase volume.
A real life example from one of our white label partners:
One of the companies that work with us regularly sell 2000 one-year registry cleaner keys at $30 apiece. That's $60.000 revenue on a $4.000 original expense or a 1400% gross profit margin percentage excluding various expenses such as payment fees, marketing etc.
Create your own white label for free
We hope you've learned some things and want to try out if it's something for you. Luckily you can play around in our white label manager for free (no trial needed). 
Go ahead and try it out here, and if you have any questions please feel free to ask.
GD Star Rating
a WordPress rating system
The Definitive Guide to Software White Labelling

,