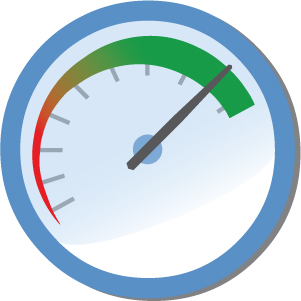 It's no secret that after a while a PC will slow down due to the system's resources being used unwanted places. Below we've gathered some of the ways you can regain your computer's glory years and get it to perform at maximum speed.
We guarantee your computer will run faster!
Speed up your Startup
MSConfig is a place where you with the click of a button can cross of which programs you'd like not to load at startup. When your computer has to open 15-20 programs when booting up, it puts a lot of load on the CPU.
To remove the programs you'd like to boot up with Windows Go to Start > Search programs and files and in the field write msconfig and press Enter. A System Configuration box will popup and in the Startup section you can choose which software shouldn't open automatically.
Uninstall Unecessary Programs
Your computer is probably full of old and unused programs. Clearing out and uninstalling these programs not only gives you more hard disk space but may speed up the system's performance. To uninstall go to Start > Control Panel > Uninstall a program.
Another option is to get rid of programs that use a lot of RAM. A good example of this is Windows Media Player. This program uses a lot of your PC's power unnecessarily. An alternative to this is VLC Media Player which does almost everything Windows Media Player does + A LOT more while using fewer resources.
Automatic Updates
Having the latest version and updates from Windows is a sure way of not only keeping yourself safe from potential infections, but also optimizes your system and gives you the latest features.
Another great tool for your installed software is our own free OUTDATEfighter. OUTDATEfighter scans your computer and finds the latest versions, making it super easy always having the latest software.
Use a Registry Cleaner
Probably one of the most effective ways to clear your system of clutter and mess in the Windows Registry is by using a registry cleaner tool.
We pride ourselves in having one of the best cleaners on the market. Try a free scan with SLOW-PCfighter and see how many errors you can find.
Basically a registry cleaner scans your computer's database and finds inconsistencies and errors causing the system to operate slower and ineffectively.
By running a quick scan you can easily get an overview of your errors and what needs to be fixed. Our registry cleaner gives a complete review of where your errors come from and with the click of a button fixes them all.
Upgrade your PC's hardware
Sometimes the only option is to pull out the wallet and splurge on new RAM (Random-
Access Memory) which is basically the computer's memory and data storage.
Under 2GB is probably not enough anymore due to the complexity and functions of new software.
To see how much ram your system has go to Control Panel > System and Security > System. You can get 4GB of ram for under $50 which is in most cases a bargain for an older computer.
Scan for Virus, Spyware and Adware
It doesn't matter if you have 100GB of ram if your system is infected and it's resources drained by a virus, spyware or adware. Always keep your antivirus program up-to-date! Imagine a little tick sucking out all the blood and energy of your computer.
A cardinal rule that is unfortunately often broken (but something you of course won't break).
GD Star Rating
loading...
Top 6 Ways to Speed Up your PC

,